About Library:
Gulab Bai Yadav Smriti Shiksha Mahavidyalaya library was established in 2002 along with the inception of college. College has an excellent library for the benefit of students, faculties and researchers. As one of the best-established libraries according to International Standards, the College Library has a large collection of books. The library is well protected with fire alarms and CCTV Security systems. The college subscribes to a wide range of Books, Journals and Periodicals Rare Books in Teacher Education. The JMC Library also provides a large collection of reference sources (for e.g., encyclopaedias, dictionaries, atlases, year books, handbooks etc.) in addition to various textbooks and other reading materials. The library has a huge collection of about 60,000 books on various subjects. The library subscribes to 67 journals, popular magazines and periodicals along with 10 newspapers. GBYSSM library services are fully computerized. For general rules regarding the use of the library, students are advised to refer to the Library Notice Board. The college library has also been subscribed to DELNET databases for better research and academic pursuits.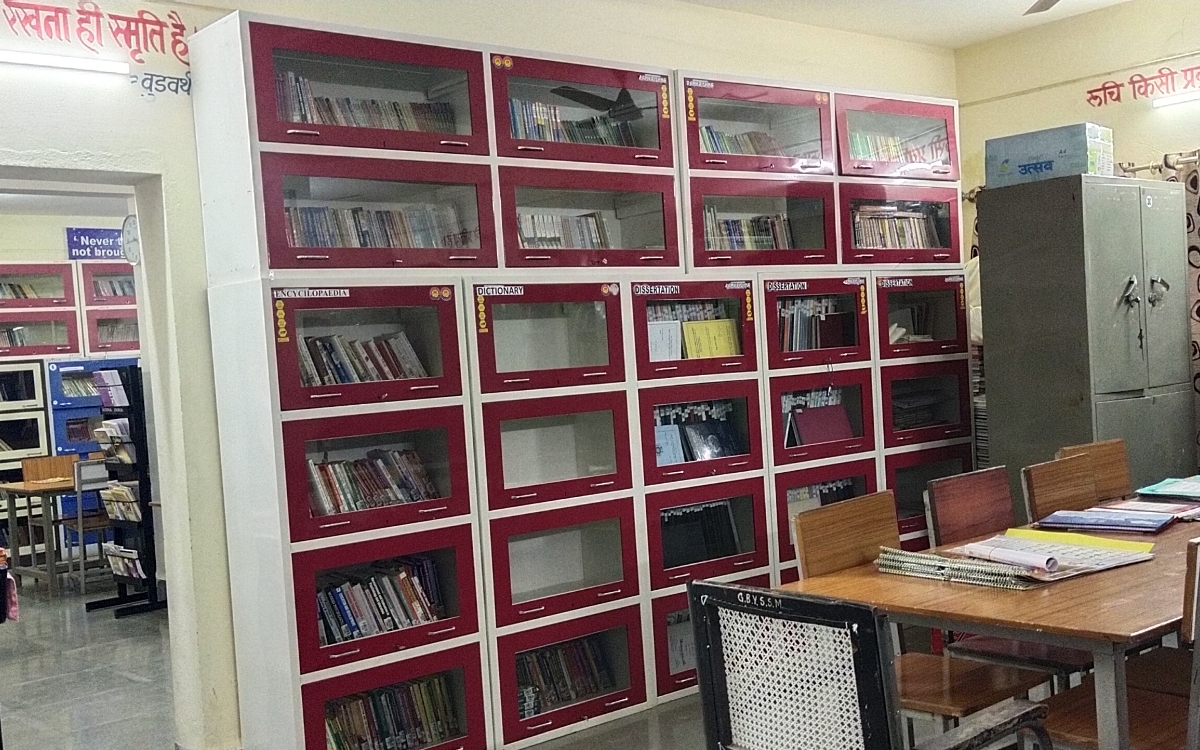 Vision:
Pursuit of excellence in higher education to make our students globally competent with human values.
Mission:
Provide value and need based education.
Produce graduates capable of Independent life-long learning Objectives.
To promote the reading habits.
Extensive use of reading material.
To provide every reader his / her book & Information.
To see that every book has its reader.
To Save the time of the user / reader.
Library is a growing organization, a step towards development.
To computerize the library housekeeping activities.
To protect the users right of information.
To provide value added services to the students & faculty.
LIBRARY SERVICES AT GBYSSM

CIRCULATION SERVICE
Circulation Services assist library patrons with the location and circulation of library materials. Functions include check-outs (Issue) and check-ins (Return) of materials, collection of fines and other charges, re-shelving of library materials, and maintaining order in shelving areas. Circulation Services provides all the time support to patrons about their common queries related to the college library. The Circulation Counter remains opens from 10:30 AM to 3:30 PM. "Grantham" software helps in library automation services. It helps to keep records of various activities at GBYSSM Library.
MEMBERSHIP SERVICE
Library membership is free for all the students, teachers and staff of the college. The college library registers each member of the college and issues a membership card in their names.
INDEXING SERVICE
Indexing and abstracting journals are most frequently used sources of all information. The value of indexing services lies in furthering the cause of academic research. The college library prepares in-house indexing of subscribed print journals to fill in the time gaps until the receipt of the commercial indexing and abstracting services. It helps the students of M.Ed. course and Ph.D. Scholars for various research literatures.
REFERENCE SERVICE
Service provided by libraries whereby patrons are assisted in the location and retrieval of information relevant to their information needs. The Reference services refer the library users for their desired documents. It's a kind of library service to assist the users to find the information they need.
Refer to the provision of information to people entering a library and requesting assistance from the library staff or in short personal assistance provided to library users seeking for information. The college library has special reference collection i.e. Encyclopaedias, Dictionaries, Biography, Atlas and other resources etc.
RARE BOOKS COLLECTION
A rare book is any book which has an enhanced value because the demand for the book. This is usually because of its importance, scarcity, content, condition, physical and aesthetic properties, association, or subject matter etc. Demand can change as interests change.
GBYSSM Library helps students by providing rare books in the area of Teacher Education. It also helps them by providing different policy papers, education policies, lectures of eminent educationists etc.
READING ROOM SERVICE
A special provision has been made for the students to bring and read their own notebooks in a library friendly environment. Our library is well lit with natural light and green serene surrounding that helps students to concentrate and meditate with book content.
Students can also bring their own reading materials and can also use the library resources to meet their information needs and assignment needs. They can also sit and prepare for their internal assessments and final exams in the library. This section is highly appreciated by the readers who want a peaceful and relaxed environment for their studies.
A separate reading area for the faculty members is also available on the first floor of the library. The reading room is open to all users from 10:00 AM to 4:30 PM to sit and study. The timings are adjusted as per the exam and other requirements of the staff and students.
PLAGIARISM CHECKING
In order to maintain academic research standards, library uses approved plagiarism checking software, "Ouriginal". It ensures that its users are writing their original content in their research and not copying the content from the internet. This software is available to all the users from any place with the help of the Librarian with prior permissions.
E-RESOURCE ACCESS
The college provides access to a variety of e-resources, for example, N-LIST (a joint project by the e-ShodhSindhu Consortium, INFLIBNET Centre. Other resources and pdfs books are also available at the GBYSSM website. For the purpose the college library consists of computers (PCs) to get access to these databases as per their requirement.
PHOTOCOPY SERVICE
Photocopier facility is also available in the college campus of Jesus and Mary College. The location of college is rural and no photocopy machines are available in the nearby locality. Thus Management and Principal of GBYSSM decided to provide photocopy facility easily to the students.
BOOK RESERVATION SERVICE
The college library also provides Book Reservation Service to its users, in which they can reserve their required document or book in advance when in case that particular book is already issued to an another user. One can reserve only one book at a time for one day only. The book reservation slip is available at library circulation desk.

Swa.Gulab Bai Yadav Smriti Shiksha Mahavidyalaya, Borawan Library is Member in DELNET(Developing Library Network) using this membership, Our College students, Research scholars and faculty members can access DELNET, database of e- books, database of periodicals articles,, Union catalogue of books and Union catalogue of periodicals from their web link. Users can access millions of journal articles and e-books using the below mentioned DELNET web link. This link is provided by IP based access. User name and password is not needed. Go to URL: http://www.delnet.in then click "New Discovery Portal" under the heading of Access the Major Digital Library Resources in South Asia".
E-resources Subscribed (NLIST)
Library is subscribing NLIST resources that offer access to thousands of quality scholarly journals and eBooks on diverse streams of knowledge including education. N-List stands for "National Library and Information Services Infrastructure for Scholarly Content".
All the students, staff and faculty members can avail access to NLIST resources by simply getting registered with the library. The information resources available through NLIST can be access from anywhere anytime thus gives users freedom to make use of these scholarly resources as per your convenience. All Students and faculty members who want to access NLIST resources should approach library to get registered by sharing required details and receive Username and Password via your email. Once registered you can access these resources from anytime anywhere.
Once you receive username and password in your email you can click on the web address shared inthe email to reach the NLIST website portal or you can type in your web browser the web address of NLIST portal that is https://nlist.inflibnet.ac.in. After confirming your username and password first time you will be asked to change password to your liking. Once done you can explore all resources given below and download pdf of any required resource available. Do make optimum use of available resources. The academic resources available via NLIST are listed below.